2012 Armor All Auto Show - Sydney Telstra 500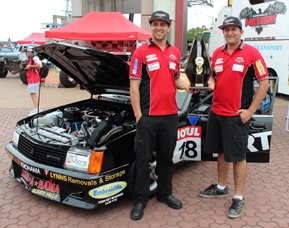 December 15, 2012
MRTeam travelled to Sydney Olympic Park for the 2012 Armor All Auto Show at Sydney Telstra 500 V8 Supercars from Friday November 30 to Sunday December 2.
Raceline Events have been involved with this awesome event for 4 years.
In this time, the Armor All Auto Show at the ST500 has grown from a 125 exhibit "add-on" to becoming a very major part of this event - the V8 Supercars Grand Final.

The Auto Show had a large variety of cars including: Top Fuel Dragsters & Funny Cars, American & Australian Muscle Cars, Timeless Classics, competition race cars, Rods, Bikes, Super Karts, Rock climbers and Off Road Racers, Wild Ute's & Customs to late model imports & Drift Cars - the list goes on & on.

MRTeam were set up as a static display with the two race cars and the transporter. The marquee had a TV playing race footage continuously, plus promotional media i.e. informational flyers, stubby holders and magnets etc, which are readily available.
We were set up in front of the All Phones arena near turn 2, 3, and 4 called the 'chicane'. This ended up being a good position with a lot of exposure and traffic flow due to the Showtime FMX team and the Gas Gas bikes doing their exciting stunts and tricks next to us.

It was a great weekend for the team as we were able to talk to such a large audience about the engineering and development in the cars plus the exciting future goals of MRTeam.
MRTeam enjoyed great response from spectators, congratulating us on how well presented the cars are. The cars looked so good that we won an award for the Armor All Auto Show- 'Top Competition Car'.

Finally to top the weekend off MRTeam took the cars out for the parade lap around the circuit each day. Only 30 plus out of hundreds of cars were chosen so to take a car out each day was a huge honor. Our sponsors enjoyed the ride around the circuit in front of tens of thousands of people. For them it was a once in a lifetime experience that won't be quickly forgotten.

MRTeam would like to give a big thank you to Warren and Kristy form EmbroidMe Penrith for the great work in producing 1000 of our new stubby holders.
We are very happy with the product and they were a huge hit with the spectators over the weekend.