TODAY Weather Segment - Sydney Motorsport Park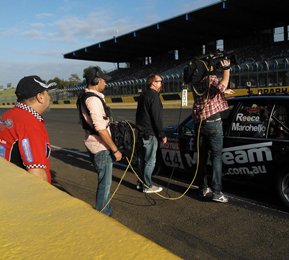 December 15, 2012
On Friday 23 November MRTeam Accompanied the Today - Weather Segment at Sydney Motorsport Park for the 'Celebrating Motor Racing History - TASMAN REVIVAL'.
With an early start planned for the morning show MRTeam drove up the night before.

Our intentions were to just have the cars in front of the camera with Steve Jacobs talking about the cars and their connection to the event. Luckily for us we were also able to take the cars out on the track.
It was a strange but amazing feeling being the only two cars on the circuit before 7.00 am. The Production crew set the cars up with cameras to do a live feed back to the studio.
There was some great footage of both cars as they made their way down the straight.

Steve was his usual funny and enthusiastic self.
He very excitedly showed off our cars to thousands of regular viewers whilst giving a brief run down on the history and power of the VB Commodore.
MRTeam really enjoyed the time with the Today show.
Overall it was a very positive experience.
It was great exposure for ourselves and our sponsors as the Today Show is very popular and covers a wide audience.
We are very grateful for the opportunity and look forward to future appearances with Today.

The rest of the day was spent flag marshalling for the event.
This allows us to upgrade our Provisional Circuit license to a National Circuit license.
MRTeam would like to thank John McCabe our truck driver, Simon Chapman from Ulladulla Motors and Heidi Yi from Heidi Yi Mineral Cosmetics for their help and support on the day. As always this was greatly appreciated.