2012 NSW Motor Race Championship Round 3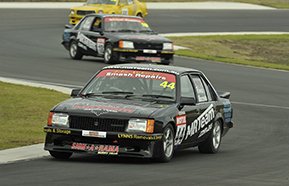 June 20, 2012
MRTeam was thrilled to compete in the very first race meeting for the recently relaunched Eastern Creek International Raceway, now known as Sydney Motorsport Park. Round 3 of the NSW Motor Race Championship was held on Saturday 9th and Sunday 10th of June on the new 4.5km Long Circuit. There were a lot of different competitors that attended for the historic event, including a few from interstate.


Ryan qualified in 15th position with Reece close behind in 17th position in a field of 24 cars. While qualifying placed them further back in the field than they would have liked, Ryan and Reece were able to make up ground with each race. Reece took the lead over Ryan in Race 1 which he held for the remainder of the weekend. Reece and Ryan completed Race 1 in 13th and 14th position respectively. In Race 2 they placed 11th and 14th and Race 3 saw them finish with a 10th and 11th placing. The cars performed well and both Ryan and Reece improved their lap times with each race as they settled in to the new circuit. They thoroughly enjoyed the extension in the circuit which proved to be both challenging and exciting for them. As it is a very tight section, it made for very interesting driving :-)

We are very happy to report that with the combination of suspension upgrades carried out last month and the use of the new Yokohama 050 tyres, there was a big improvement in the performance and drivability of the cars. Though we are unable to compare our times from previous race meetings as we were competing on a new circuit, Ryan and Reece found they had more speed and better handling over the original section of the circuit. The next stage of our development work will involve driveline assembly upgrades for both cars. Full details of race times and results can be found on our results page.

We really enjoyed the experience of competing with a different mix of drivers and it was good preparation for when we travel interstate ourselves. The close and competitive racing over the weekend made the event all the more fun!

A huge thanks goes out to our family and friends for their support over the weekend, and as always, a huge thanks goes out to all our wonderful sponsors: Lynns Removals & Storage, McVey's Transport Ulladulla, EmbroidMe Penrith, Signarama Surry Hills and Wishart's Paint Solutions.