Ulladulla Blessing of the Fleet Festival 2012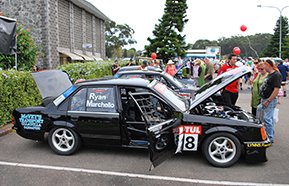 April 13, 2012
It was a gorgeous day for the Ulladulla Blessing of the Fleet Festival held on Easter Sunday, 8th April. The Festival this year was by far the best yet and it was fantastic to see so many people in attendance in support of the event and our local community. We had a great time exhibiting our two early model commodore race cars alongside the Vintage & Classic cars. In actual fact, the 1979 & 1981 Holden Commodores can be considered Vintage Race cars! Now there's a twist :-)

MRTeam thoroughly enjoyed the sunshine and the many delightful spectators, both local and non-local, eager to check out the cars and have a chat. We were of course only too happy to discuss vehicle specifications, future plans for the team and any other questions thrown our way. We were also very pleased to hear that many locals have been following our progress in the Milton Ulladulla Times which was quite a popular topic for conversation. At the end of what was yet another fabulous day for MRTeam, our 45ft custom built race car transporter once again stole the spotlight and was quick to draw in the crowd whilst loading the cars on ready for home.

We would like to thank our sponsors Lynns Removals & Storage, McVey's Transport Ulladulla, Signarama Surry Hills, EmbroidMe Penrith and Wishart's Paint Solutions. Their effort and support over the last few weeks is most appreciated and has enabled us to attend our recent events in sensational form. We now look forward to preparing for Round 2 of the 2012 NSW Motor Race Championship to be held at Goulburn's Wakefield Park Raceway on April 28/29. Stay tuned to our Calendar page for further information on our upcoming events.