Promising start for MRTeam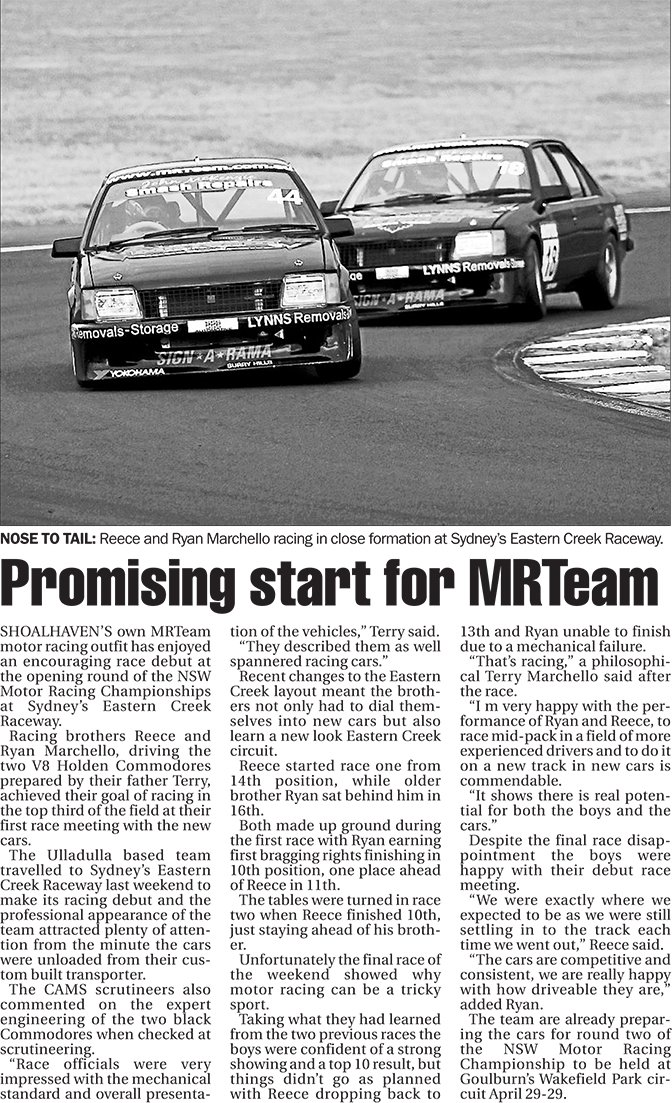 April 09, 2012
South Coast Register

SHOALHAVEN'S own MRTeam motor racing outfit has enjoyed an encouraging race debut at the opening round of the NSW Motor Racing Championships at Sydney's Eastern Creek Raceway.

Racing brothers Reece and Ryan Marchello, driving the two V8 Holden Commodores
prepared by their father Terry, achieved their goal of racing in the top third of the field at their first race meeting with the new cars.

The Ulladulla based team travelled to Sydney's Eastern Creek Raceway last weekend to make its racing debut and the professional appearance of the team attracted plenty of attention from the minute the cars were unloaded from their custom built transporter.

The CAMS scrutineers also commented on the expert engineering of the two black
Commodores when checked at scrutineering.

"Race officials were very impressed with the mechanical standard and overall presentation of the vehicles," Terry said.

"They described them as well spannered racing cars."

Recent changes to the Eastern Creek layout meant the brothers not only had to dial themselves into new cars but also
learn a new look Eastern Creek circuit.

Reece started race one from 14th position, while older brother Ryan sat behind him in 16th.

Both made up ground during
the first race with Ryan earning first bragging rights finishing in 10th position, one place ahead of Reece in 11th.

The tables were turned in race two when Reece finished 10th, just staying ahead of his brother.

Unfortunately the final race of
the weekend showed why motor racing can be a tricky sport.

Taking what they had learned from the two previous races the boys were confident of a strong showing and a top 10 result, but things didn't go as planned with Reece dropping back to 13th and Ryan unable to finish due to a mechanical failure.

"That's racing," a philosophical Terry Marchello said after the race.

"I m very happy with the performance of Ryan and Reece, to race mid-pack in a field of more experienced drivers and to do it on a new track in new cars is
commendable.

"It shows there is real potential for both the boys and the cars."

Despite the final race disappointment the boys were happy with their debut race meeting.

"We were exactly where we expected to be as we were still settling in to the track each time we went out," Reece said.

"The cars are competitive and consistent, we are really happy with how driveable they are," added Ryan.

The team are already preparing the cars for round two of the NSW Motor Racing
Championship to be held at Goulburn's Wakefield Park circuit April 29-29.