Bruising weekend for MRTeam drivers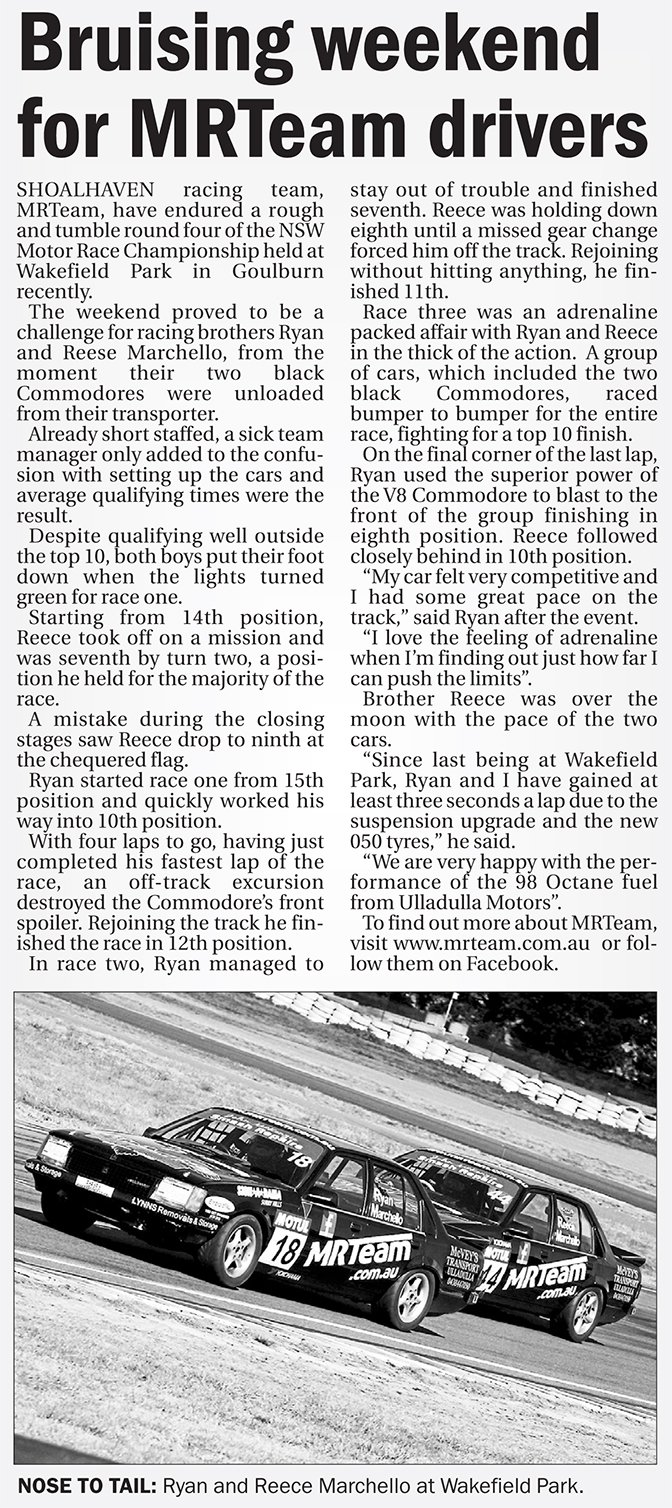 August 24, 2012
South Coast Register

SHOALHAVEN racing team, MRTeam, have endured a rough and tumble round four of the NSW Motor Race Championship held at Wakefield Park in Goulburn recently.

The weekend proved to be a challenge for racing brothers Ryan and Reese Marchello, from the moment their two black Commodores were unloaded from their transporter.

Already short staffed, a sick team manager only added to the confusion with setting up the cars and average qualifying times were the result.

Despite qualifying well outside the top 10, both boys put their foot down when the lights turned green for race one.

Starting from 14th position, Reece took off on a mission and was seventh by turn two, a position he held for the majority of the race.

A mistake during the closing stages saw Reece drop to ninth at the chequered flag.

Ryan started race one from 15th position and quickly worked his way into 10th position.

With four laps to go, having just completed his fastest lap of the race, an off track excursion destroyed the Commodore's front spoiler. Rejoining the track he finished the race in 12th position.

In race two, Ryan managed to stay out of trouble and finished seventh. Reece was holding down eighth until a missed gear change forced him off the track. Rejoining without hitting anything, he finished 11th.

Race three was an adrenaline packed affair with Ryan and Reece in the thick of the action. A group of cars, which included the two black Commodores, raced bumper to bumper for the entire race, fighting for a top 10 finish.

On the final corner of the last lap, Ryan used the superior power of the V8 Commodore to blast to the front of the group finishing in eighth position. Reece followed closely behind in 10th position.

"My car felt very competitive and I had some great pace on the track," said Ryan after the event.

"I love the feeling of adrenaline when I'm finding out just how far I can push the limits".

Brother Reece was over the moon with the pace of the two cars.

"Since last being at Wakefield Park, Ryan and I have gained at least three seconds a lap due to the suspension upgrade and the new 050 tyres," he said.

"We are very happy with the performance of the 98 Octane fuel from Ulladulla Motors".

To find out more about MRTeam, visit www.mrteam.com.au or follow them on Facebook.