Sutho Cops & Rodders Road Safety & Car Show 2013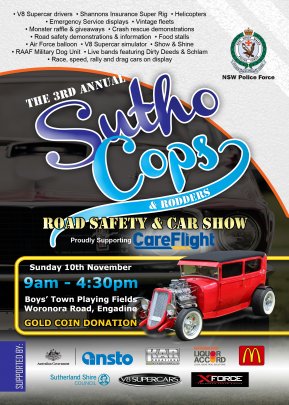 November 10, 2013
Boys' Town Playing Fields, Engadine NSW
Sutherland LAC's major community engagement event and road safety initiative named "Sutho Cops & Rodders Road Safety & Car Show" is now in its 3rd year.

On Sunday 10 November 2013, the event will be held at Boys' Town Playing Fields, Woronora Rd, Engadine and is scheduled to be held between 9am and 4.30pm.

The aim of the event is to reduce road trauma through the promotion of safe driving utilising displays of exhibits, which demonstrates the impact this has on our family, friends and the community alike.

V8 Supercar drivers Alex Davison, Warren Luff (Carrera Cup) and Steven Richards (Carrera Cup), V8 Utes driver Andrew 'Fishtail' Fisher for an autograph signing session and interviews.


They will be joined with more special guests, including players from the NSW 'Speedblitz' Blues and NRL Cronulla Sharks.
Patrons can experience "life in the fast lane", in Australia's only V8 Supercar simulator and Shannon's Insurance Super Rig, while a range of vintage fleet from Police, Fire, Ambulance and other organisations will roll in.

The Emergency Services will be displaying a mock rescue demonstration involving real people in 'real' scenario's, where motorists will have 'real' injuries in an inter-agency extrication rescue.
The CareFlight and NSW Police Force helicopters will land and open their doors.

Entertainment will be provided by our headline act 'Schlam' and 'Dirty Deeds', Australian Army Jazz Band and St George & Sutherland Shire Pipe Band.

The RAAF Military Dog Unit will again be 'flying' through the "Rings of Fire" and over obstacles, while the Air Force Hot Air Balloon will tether above, giving a 'birds-eye view' of the grounds. Team Army (Australian Army) will be attending with their drag and burnout cars, 'Project Digger' and 'Armeggedon', while the Australia Federal Police will open their doors for patrons to see their vehicles.

NSW Police Force Traffic & Highway Patrol Command will 'roar' in their custom built Ford FPV GT Boss 400 signed by legendary race car driver Dick Johnson, in addition to Harbouside LAC's Porsche Panamera GTS.

'Sainty' a Top Alcohol Funny Drag Car will 'thunder' in, while further motor racing disciplines will be on display for patrons to view.

Nine Network Australia will attend broadcasting Live crosses on their 'Weekend Today' program, in addition, 'Classic Restos', which airs on over 40 networks around the world and national program 'Grunt Files'. There will be a media presence in the form of TV, newsprint, magazines and other media sources.